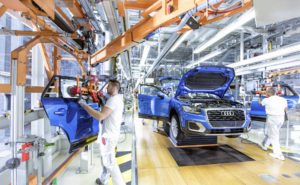 Production of vehicles in Ukraine in January 2019 grew by 56.7% compared with January 2018, to 893 vehicles, and the growth pace is linked to the assembly of Skoda passenger cars by Eurocar Plant, which grew by 73%, to 828 cars, the Ukrautoprom association has reported.
Eurocar improved its production 4.2-fold compared with December 2018.
The association said that today Eurocar is the only enterprise in Ukraine where the production of passenger cars continues.
At the same time, the production of commercial vehicles fell by more than 63%: only five vehicles were manufactured in a month (excluding AvtoKrAZ, which has stopped disclosing production information since August 2016), including four by Cherkasy Bus (two in January 2018), and one by Zaporizhia Automobile Plant (ZAZ, 30 vehicles)
The production of buses practically did not change: 60 buses were produced, against 59 vehicles a year earlier. The Cherkasy Bus (40 buses in January 2019 compared with 12 in January 2018) remained the leader of their production, the Chernihiv Automobile Plant (14 compared with 20 the previous year) was the second, the ZAZ and the Chasiv Yar Bus Plant made three buses each (compared with seven buses and 17 buses, respectively). Not a single bus was produced by Bogdan Corporation (three buses in January 2018).
Compared with December 2018, the output of buses in January decreased by 21%.
As reported, in 2018, the Ukrainian automakers produced only 6,616 vehicles. This was 23% less than a year earlier, and production capacity was loaded less than 1.5%.
At the same time, passenger car assembly decreased by 22%, to 5,660 cars (including Eurocar produced 5,659 cars, 7.9% less), commercial vehicles (excluding products of AvtoKrAZ) – by 73%, to 132 units. A slight positive trend was seen only in the production of buses – an increase of 2.5%, to 824 units.