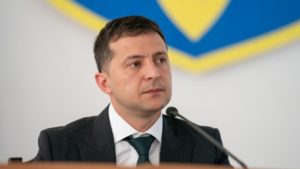 President of Ukraine Volodymyr Zelensky has instructed the Cabinet of Ministers to ensure a gradual transfer of certain public services to an electronic form, simplify the procedure of their provision and introduce an effective control mechanism.
According to presidential decree No. 647/2019 of September 4 on some measures to ensure the provision of high-quality public services, the government should introduce new approaches to the establishment and operation of administrative service centers, in particular, switch the provision of administrative services in regional and district state administrations to the administrative service centers of local self-governance bodies on the basis of the co-financing by the state of relevant expenses with the provision of an appropriate network of these centers and the availability of such services with the subsequent elimination of the obligation to form such centers at district state administrations. In addition, to send part of payment for the provision of administrative services for the logistics of the centers and remuneration to the administrators of such centers.
The document also raises the question of the appropriateness of the further provision of administrative services by state and municipal enterprises. It is proposed to resolve the issue of payment for administrative services by introducing uniform principles for determining the size of administrative fees for the services, the procedure for its payment and use.