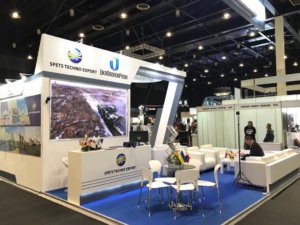 State-owned enterprise (SOE) Spetstechnoexport is boosting defense cooperation with India and opening its second representative office on the largest defense market of the South Asian region. The press service of the company reported on Tuesday that the representative office of Spetstechnoexport opened in October in Nashik, India, will provide operational and effective cooperation with Indian partners, including the implementation of the new arrangements in the defense cooperation sphere signed by Ukraine in 2018 with Hindustan Aeronautics Limited (HAL) and Bharat Electronics Limited (BEL).
According to the report, the new arrangements with HAL foresee expansion of defense cooperation in the aviation cluster, in particular, the supply of defense systems for Indian helicopters, joint research and the developments, establishment of production of specific aviation systems in India.
Spetstechnoexport engages Ukrainian defense enterprises in cooperation with the HAL, in particular the Lviv State Aircraft Repair Plant, the Odesa Aviation Plant, SOE Institute for scientific research Storm, SOE Kharkiv Machine-Building Plant FED, the Kharkiv Aggregate Design Bureau, SOE Novator, Radionix LLC and others.
The possibility of closer communication with foreign partners allows increasing the volume of cooperation, the company said. This year, Spetstechnoexport has almost tripled the volume of supplies of defense products to the needs of the Hindustan Aeronautics Limited aircraft division compared to the level of 2016.
Spetstechnoexport has an opportunity to take part in tenders for joint modernization of radars P-18 and ST-68, as well as air defense systems, such as ZSU-23-4 Shilka, P-125 Pechora and others under new arrangements with BEL.
The press service said that during the DefExpo 2018 international defense exhibition in India, Spetstechnoexport signed new contracts in the aviation sector with the total cost of about $20 million.