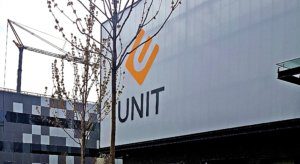 The Kyiv City Council at a session on Thursday, September 20, made a decision to lease two land parcels with a total area of 22.2 ha located at 8, Simyi Khokhlovykh to companies UNIT Zhytloinvest and UNIT Holdings to build a residential and office complex. A total of 71 lawmakers backed the lease of 8.2 ha land parcel to UNIT Zhytloinvest and 83 lawmakers supported the lease of 14 ha to UNIT Holdings. As reported, KAN Development and UDP in 2019 will start building a residential complex of 170,000 square meters in Kyiv-based UNIT.City innovative park. The share of housing will be around 30% of the park.
The project provides a mix of housing of business and comfort classes. The construction is scheduled to begin in 2019, and the first stage, which will account for 15% of the total area (about 25,000 square meters), will be commissioned in 12-14 months.
KAN Development is also engaged in joint development for the construction of a six-story business center on UNIT.City's area. Its commissioning is planned before the end of 2018. Its total area is about 13,000 square meters. At the same time, preliminary lease agreements have already been signed for 90% of the area. Under this project, UDP and KAN Development act as co-investors.
Apart from housing, UNIT.City will also have a university, a school, a kindergarten in the future.
As reported with reference to founder of the UFuture investment group and K.Fund Vasyl Khmelnytsky, it is planned that the area of the UNIT.City innovation park in Kyiv will be expanded to 26 hectares from 19 hectares (as of May 2018).
The UNIT.City innovation park officially opened in April 2017 on the territory of the former Kyiv Motorcycle Plant. Its territory comprises the Chasopys-UNIT co-working facility, IT school UNIT Factory, three laboratories, a business campus, a fund and five accelerators.
According to UNIT.City's website, four new business campuses, three accelerators, four funds will be created in the park before 2019. The number of resident companies will be increased to 100. By 2025, the park should include 25 hectares of space for work and leisure, as well as more than 300 companies and R&D laboratories.
KYIV CITY, LEASING, OFFICES, RESIDENTIAL BUILDINGS, UNIT.CITY