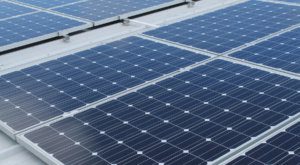 The Slovenian company Riko in August this year will begin the construction of a solar power plant with a capacity of 10.6 MW near Zhytomyr, mayor of the regional center Serhiy Sukhomlin, who signed a contract with director of the Slovenian company Janez Skrabec, has said. "The plant will be built near the village of Hlybochytsia on a plot of 18 hectares. It is planned to complete the work by August 2019 … Special thanks to the members of the government of the Republic of Slovenia for the issue of EUR3 million grant funds for this project," Sukhomlin wrote on Facebook.
He noted this is the second project that Riko will implement in Zhytomyr: previously Slovenia won a tender for the reconstruction of the drinking water pumping station of municipal enterprise Zhytomyrvodokanal.
Deputy Prime Minister, Minister of Regional Development, Construction, Housing and Utilities Services of Ukraine Hennadiy Zubko, in turn, congratulated Zhytomyr with the launch of such an ambitious project and expressed belief that the city has all chances to become Ukraine's first city having its own solar power plant. "Financing the project: credit facilities plus financial support from the government of Slovenia plus city guarantees," Zubko wrote on his Facebook page. He also noted that the future effect for Zhytomyr is about EUR1.65 million of additional revenue per year, and also the reduction in carbon dioxide emissions.