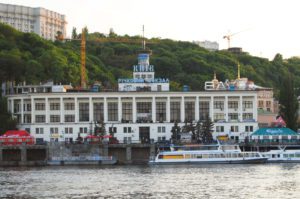 JSC Kyiv River Port plans to build a class A logistic complex with a cargo area and a terminal for a cement base, the port has reported on its website. In addition, the port plans to focus on the development of rail and container traffic; as well as actively develop trade relations and transportation with Belarus.
The logistics complex with a cargo area will occupy an area of 10,000 square meters, of which 2,000 square meters will be reserved for office space.
The railway infrastructure is planned to be used, first of all, for work with sand, crushed stone, metal and cement.
In addition, the company said that, since 2014, the company has provided over UAH 40 million for the development of infrastructure.
"A customs complex with an international checkpoint was built, office buildings, workshops and warehouses were reconstructed and repaired, the territory was cleared of garbage and modern security equipment was installed. The railway line was fully restored and weight complexes were installed," the company said.
The ships also installed new navigation equipment and modern security equipment, an icebreaking tug and a floating crane were purchased.
"Today, the Kyiv River Port is successfully developing in eight directions, starting with cargo handling services and ending with passenger transportation," the company said.