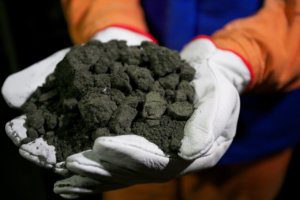 Ukraine's Economic Development and Trade Ministry has approved a road map for the introduction of the Direct Reduction Iron (DRI) technology at Kryvy Rih oxidized ore mill, also known as KGOKOR (Kirovohrad region) with participation of Austria's Hares Group and Japan's Kobe Steel. The ministry said on June 23, 2018, the official visit of a delegation of Japan's Kobe Steel Ltd. to Ukraine finished. The road map for the introduction of newest technologies at KGOKOR was approved after their visit on June 22, 2018.
The press service said that in March 2018, the ministry, Kobe Steel and Hares Engineering Gmbh signed a memorandum of understanding in the issue of introducing oxidized ore processing solutions on the basis of KGOKOR.
According to the press release, the road map is complex. It concerns the full range of issues, including the designing of a feasibility study for building modules for receiving nuggets from oxidized ore, legal and organizations issues for the creation of a joint venture (JV) by investors, granting respective rights to use oxidized ore to investors and other issues.
Representatives of Kobe Steel, Hares Engineering and the Ministry of Economic Development and Trade at a meeting with the leadership of the Verkhovna Rada committee on industrial policy and entrepreneurship discussed the prospects for legislative support of cooperation under the project to create a modern highly productive and energy efficient enterprise of the highest global level on the basis of KGOKOR and to resolve issues of concern at KGOKOR.