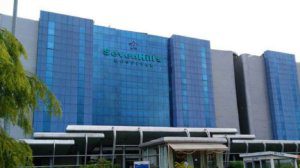 Exko Plus LLC (Seven Hills developer, Kyiv) of businessman of Israeli origin Beny Steinmetz plans to start implementing a project to build a business class residential complex located at 39/2 Henri Barbusse Street in the Pechersky district of Kyiv. "We continue believing in business class – the segment where we work. We see and feel that it is stable. Demand remains. We will continue working in this residential housing segment," Seven Hills CEO Arie Schwartz said at the RED PM DAY 2018 conference held last week in Kyiv.
He told Interfax-Ukraine that the company's primary task is to complete the construction of the last stage of the Park Avenue residential complex, scheduled for the first quarter of 2019, and then focus on the new project.
As expected, the new complex will be designed for 670 high-end apartments. The construction of this residential complex was announced back in 2008. Then the developer several times postponed the start of its implementation.
According to Schwartz, the company's portfolio contains five sites in Kyiv for development, one of them is Park Avenue residential complex (located at 58A, Holosiyivsky Avenue) and one in the pipeline – in the Pechersky district (located at 39/2, Henri Barbusse Street).
"We thought that it will take about five years to build Park Avenue. Today it is 11 years, and we continue working on our other projects," Schwartz said.
As reported, Seven Hills in 2009 announced plans to start implementing three construction projects in Kyiv city and region, in particular, the Podol A class office center and a premium-class residential complex in Kyiv and the Airport City office and warehouse complex in Kyiv region.
Exko Plus LLC was established in 2004, its main activity is the construction of residential and nonresidential buildings.
According to the unified public register, participants of LLC are Global Space Management Limited (90%) and Respublika investment fund (10%). The ultimate beneficiary is Steinmetz.