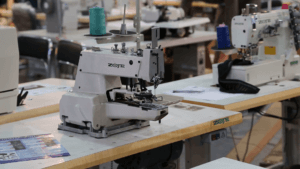 Yaroslav company (Kyiv), specializing in production of textiles and bedding, has opened Krolevets sewing factory (Sumy region), which specializes in sewing women's shirts, pajamas, and workwear.
According to a report by Krolevets City Council on its Facebook page, the factory already employs about 100 people, but in 2019, with the opening of another shop, it is planned to increase the number of employees to 300 people.
At present, in particular, the factory is fulfilling an order for sewing jackets for the workers of Nova Poshta.
"It's nice that in such a difficult time, despite the legal regime of martial law in the territory of Sumy region, new enterprises are opened," Head of Sumy Regional State Administration Mykola Klochko, who was present at the opening of the factory, said.
The director and owner of Yaroslav company, Oleksandr Barsuk, previously reported that the company annually invests about $1 million of credit funds in equipment and modernization of production facilities.
The main specialization of the company is production of bed linen, blankets, mattresses, goods for children, kitchen textiles.
In 2017, the revenue of Yaroslav was UAH 354 million (in the first quarter of 2018 almost UAH 91 million).