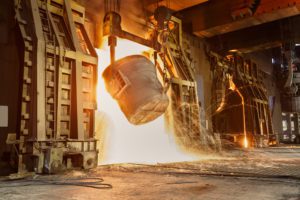 Metallurgical enterprises of Ukraine cut steel smelting by 1% in 2019 compared with 2018, to 20.848 million tonnes.
According to the reference documents of the Ministry of Economic Development, Trade and Agriculture, which are available to the Interfax-Ukraine, the output of total rolled metal also decreased 1%, to 18.387 million tonnes, and pig iron production fell by 2%, to 20.064 million tonnes.
At the same time, the agency's source in the ministry said that scrap metal supplies to metal enterprises last year fell by 10% to 3.011 million tonnes.
In 2019, pipe production fell by 9%, to 1.005 million tonnes, coke – by 7%, to 10.059 million tonnes, and metal products remained at the level of 188,000 tonnes.
Mining enterprises last year increased iron ore production by 4%, to 75.710 million tonnes, production of iron ore concentrate grew by 5%, to 63.084 million tonnes, but they reduced prepared iron ore by 3%, to 51.675 million tonnes, including sinter production that decreased by 2%, to 30.911 million tonnes, and pellets that fell by 3%, to 20.764 million tonnes.