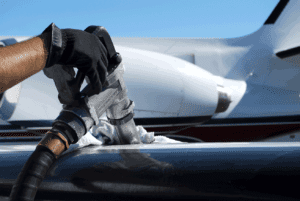 Ukrainian President Petro Poroshenko and President of Azerbaijan's SOCAR state-owned oil company Rovnag Abdullayev at a meeting in Kyiv discussed prospects of expanding cooperation in the sphere of supplies of high-quality aviation fuel and the possibility of its production in Ukraine.
The press service of the head of state reported on Saturday that the SOCAR president thanked for the opportunity to take part in the session of the National Investment Council under the President of Ukraine. He said that the company "feels comfortable in Ukraine and develops rapidly."
The parties discussed the "Turkish projects" of the company, the involvement of Ukraine in them and the prospects for further development of the oil refining complex in Ukraine.
"Next year, after the completion of strategic projects in Turkey, all attention will be paid to Ukraine. As development here is very successful," the president of SOCAR said, adding that "in ten years in Ukraine, good conditions for business have been created just recently."
Poroshenko pointed out the strategic nature of cooperation between the two states.
"I believe that we must take full advantage of those opportunities for the development and deepening of cooperation, including in the energy sector," the president said. He also pointed out the importance of using this potential to diversify energy supply to Ukraine.
The parties also discussed the possibility of expanding cooperation in the supply of high-quality aviation fuel and its possible production in Ukraine given sharp increase in the air passenger traffic at Ukrainian airports, in particular, Boryspil, Lviv, Kharkiv, Dnipro, Odesa and other Ukrainian cities.
The State Oil Company of Azerbaijan Republic (SOCAR) is one of the largest operators of the world fuel and energy market. The key areas of the company's activities are: development of new deposits, oil and gas production, refining of oil products, trading and research activities.