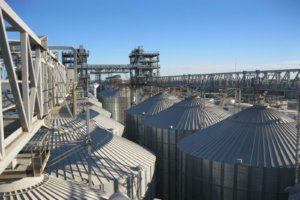 Nika-Tera maritime terminal (Mykolaiv), part of Group DF of Dmytro Firtash, is increasing its oilseeds storage capacity to 30,000 tonnes, according to a press release of the port. According to the company, the port is continuing work on commissioning the second phase of a transshipment complex for oilseeds.
According to the report, the volume of cargo transshipment at Nika-Tera port since the beginning of the year amounted to 3.7 million tonnes, which is 10% more than in the same period of 2017, while for the nine months of the current year 221 vessels were handled.
"A significant increase in the volume of transshipment was provided by cargo that was not previously processed in the port: oil, granulated meal and bran, as well as new items of bulk freight," the press service said citing commercial director of the port Valeriy Salnykov.
Nika-Tera is a highly mechanized marine terminal, part of Group DF's port business.
The terminal includes four specialized complexes: grain, for transshipment of fertilizers, bulk freight, and liquid cargo.