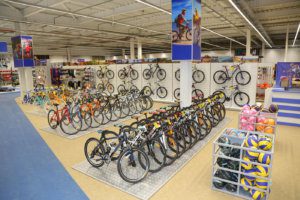 Epicenter K LLC (Kyiv), developing a network of eponymous DIY construction materials hypermarkets in Ukraine, as well as being the exclusive representative of the international sports brand Intersport, has opened the first multi-brand outlet shop Intersport in Ukraine. According to the press service of the company, the store is located in Berkovetska Street in Kyiv, its area is 2,800 square meters. Thus, the retailer expanded the network in Ukraine to 23 outlets.
"Brand clothes and Intersport's own trademarks will be presented in the Intersport outlet in Berkovetska Street," Director of Intersport Ukraine Yulia Maksymenko said. As reported, in 2015 Epicenter K signed a partnership agreement with Swiss-based IIC-Intersport International Corporation GMBH, which is one of the leaders in the world trade in sports goods.
The Intersport group of companies was established in 1968. The network has more than 5,500 stores in 44 countries of the world.