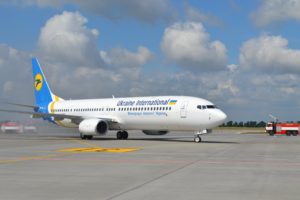 Ukraine International Airlines (UIA, Kyiv) could increase frequency of flights to Tbilisi and the company is not planning flights to Batumi, UIA Communications Director Yevhenia Satska has said.
"We conduct two daily flights to Tbilisi and are considering possibility of increasing their frequency. We are not planning flights to Batumi," she said on June 26.
Satska noted that Tbilisi is important to UIA as it has a transit network effect.
"For passengers from Europe and Baltic countries a trip to Tbilisi through Kyiv is a very good model," she said.
At the same time, Satska mentioned high airports fees in some Georgian airports that were transferred to concession.
"There is a problem which does not leave us [UIA] a chance to develop in Georgia: airport fees are rather high in Tbilisi and Batumi as long as these airports are in concession of foreign companies. These fees are much higher than in many European cities. Their reduction could automatically let us cut the cost of flight by the same amount," she said.