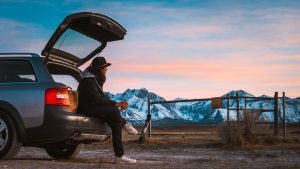 Due to lockdown restrictions in April-May 2020, some 55% of car owners reduced the number of trips made with a privately owned car, while 26% of respondents reduced the number of trips by more than 40%, according to the results of a sociological survey conducted by Factum Group on demand of A-95 Consulting Group, the group said in a press release.
In addition, Factum Group conducted the sociological survey in three stages, namely, at the end of March, when lockdown restrictions were the strictest, in April and May, when the population's activity began to increase sharply.
At the beginning of the survey, the number of respondents who reduced fuel consumption by personal vehicles was 46.4%, this figure increased to 55% in May.
A fifth of the car owners surveyed said that lockdown did not affect the intensity of personal vehicles' use. However, some 24% of respondents, on the contrary, increased the number of trips for that period.
According to the results of the Factum Group survey, more than half of the respondents positively evaluated the safety measures taken by filling station's operators during lockdown.
In addition, Factum Group studied consumer sentiment, according to which the price remains the key criterion for choosing filling stations for 44% of car owners. About a third of the respondents are ready to change the usual operator of fuel station in case of a difference in price from UAH 3 to UAH 5 per a liter. A quarter of respondents value the brand of the filling station chain and its reputation the most.
According to the analysts of the A-95 Consulting Group, the price gap that has developed between different filling station chains, largely redistributed sales."Lockdown in Ukraine has strengthened the polarization of petroleum products consumers, namely, already 44% of car owners are ready to change the usual filling station to cheaper one, while traditionally this figure does not exceed 30%. According to our data, the filling station chains, which are discount stations lost less the volume of sales compared to brand chains with high price positions," the group said in the press release, citing analyst at A-95 Consulting Group Artem Kuyun.