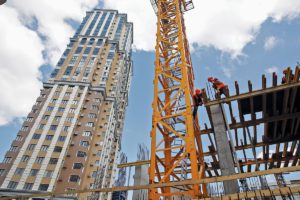 Ukrbud Development LLC, part of the Ukrbud state-owned construction corporation (Kyiv), has changed the list of founders in the unified public register of legal entities and private entrepreneurs.
According to the register, as of October 7, 2019, the owners of Ukrbud Development LLC are Yevhen Dikin and Vasyl Poliovy with equal shares of 50% in the charter capital.
Oleh Maiboroda remained the head of the enterprise.
According to the public register, Poliovy is a co-owner of Khmilnytsia Zernotrade LLC, which is engaged in providing warehouse services and servicing the Serpen Garden Society cooperative, which main activity is the complex maintenance of facilities.
At the same time, according to the public register, Dikin holds the position of the head of Building Group Plus LLC, specializing in the wholesale trade of timber, construction materials and sanitary equipment.
As reported, former MP Maksym Mykytas has left construction business and is no longer the owner of Ukrbud Development LLC, Maiboroda said in September. He said that the managers of the company would not change, while management will be carried out by the board of directors.
Ukrbud Development LLC was established in 2004 and is engaged in the development and support of Ukrbud state-owned corporation projects.