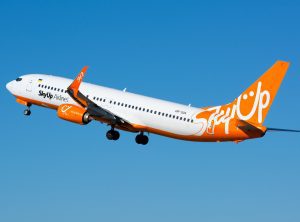 SkyUp Airlines (Kyiv) since April 2020 has repeatedly addressed the President, the Prime Minister and the Minister of Infrastructure of Ukraine with letters asking to support the country's aviation industry, the company has told Interfax-Ukraine.
It is noted that in June 2020, together with other enterprises of the industry, SkyUp appealed to the government with a request to provide state support to the industry. The appeal also outlined the problems the enterprises faced and proposals for their solution in cooperation with the state.
SkyUp emphasizes that, in addition to financial support, there can be many models of assistance – loans, loans under state guarantees, loans under the companies' obligations, etc.
"The main thing is that this scheme is working, and there is a dialogue with the enterprises," the company said.
"Today, the issue of state support for the industry remains open. Moreover, to date we have not received compensation for the special flights that were carried out to return more than 12,000 Ukrainians from Egypt in March," SkyUp added.
Earlier, Ukraine International Airlines (UIA) stated that it had also repeatedly sent requests to the authorities about the need to support both the company itself and the Ukrainian aviation industry as a whole.