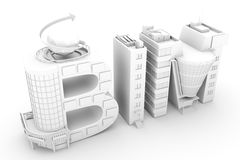 The Cabinet of Ministers of Ukraine intends to instruct the Ministry of Regional Development to submit a roadmap for the introduction of BIM technologies in construction for its consideration before the end of 2020.
The issue was included in the draft plan of priority actions of the government for 2020, approved at the Wednesday government meeting.
The Cabinet also plans to instruct the Ministry of Regional Development and the Ministry of Digital Transformation to develop and submit for consideration the changes in the procedure for the examination and approval of construction projects regarding the examination of project documentation using BIM technologies.
In addition, according to the draft plan, the government intends to instruct the Ministry of Regional Development by the end of the year to develop changes to the procedure for the development and approval of building codes, simplifying the procedure for their development, to bring the regulation on the central fund of building codes in line with the current legislation, and also to normalize the issue of applying international forms of contracts in major construction.
The Ministry of Regional Development is also to issue a resolution on the transfer of national standards for pricing in construction into the status of estimated norms and standards to simplify the procedure for determining the cost of construction before the end of the year.
The Cabinet also expects to complete the liquidation of the State Architectural and Construction Inspectorate and the creation of new bodies in the field of architectural control in November this year.