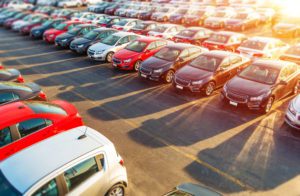 The primary registrations of new passenger cars in May 2019 grew by 1.6% compared with May 2018, to 6,900 units (the same as in April 2019), the Ukrautoprom association reported on Monday.
Last month, Toyota enjoyed the greatest demand among Ukrainians, which registrations grew by almost 46% to 1,238 units, while the leader of April, Renault, ranked second with sales growth of 29% compared to May 2018, to 967 units.
Despite a slight lag (0.6%) of its last year's figure, Hyundai took the third place, with 501 registered cars. Nissan is the fourth in the May rating with 468 cars sold and a 26% increase.
KIA is fifth (in April, entered the top three) with 445 cars sold (a rise of 18%).
Meanwhile, according to the AUTO-Consulting information and analytical group, the new passenger cars market in May grew by 3.3% compared with May last year, but decreased by 2.9% compared to April, to 6,910 units. At the same time, the group estimates the change in the positions of brands in the rating as "tectonic."
Toyota also ranks first with sales growth of 26.3% compared to April of the current year and a market share of 18.05%, Renault was in the second place with a drop of 13.4% and a share of 14.4%.
Hyundai moved up to rank three from sixth in April, increasing sales by 29.7%, to 493 cars, and growth ensured a change in the position for Volkswagen and Mitsubishi (respectively, seventh from eighth in April, eighth from 13th).
According to AUTO-Consulting, in January-May 2019, 32,051 new passenger cars were sold in Ukraine, which is 0.5% less than a year earlier.