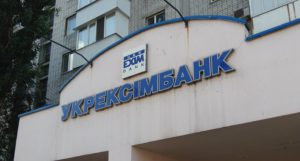 The supervisory board of Kyiv-based state bank Ukreximbank has announced a competition to select a candidate for the position of board chairman and hired international recruitment company Odgers Berndtson, the Finance Ministry of Ukraine reported on its website.
According to the statement, the supervisory board approved this decision on November 15. Applications from candidates will be accepted from November 18 until December 2, 2019. On December 3, the bank's nomination and remuneration committee in cooperation with Odgers Berndtson will form a list of not more than 10 candidates admitted to the next stage of the competition. On December 4-6, interview with the candidates will be held after which three candidates will be admitted to the final stage of the competition.
On December 6, the final stage of the competition will be held.
A candidate for the position must have at least five years of experience in the financial sector in total, including at least three years on senior managerial positions as well as have impeccable business reputation.
As reported, on November 16, 2019, the Security Service of Ukraine acting in charge of the Prosecutor General's Office of Ukraine (PGO) detained Board Chairman of Ukreximbank Oleksandr Hrytsenko in the framework of a criminal proceeding on the grounds of committing crimes under Part 1 of Article 255 (creation of a criminal organization), Part 5 of Article 191 (misappropriation, embezzlement of property or possession by abuse of office), Part 3 of Article 209 (legalization (laundering) of proceeds of crime).
Pechersky District Court of Kyiv chose a measure of restraint to Hrytsenko in the form of a UAH 3 million bail without keeping in custody.
According to the PGO, Hrytsenko is under investigation into case No. 12013220540000400 dated January 31, 2013, for being a part of a criminal organization, created by former President of Ukraine Viktor Yanukovych and his companions in February 2010, and is charged with assistance in lifting seizures from deposits and collateral for a $160 million loan for the purchase of the Ukrainian Media Holding.
Hrytsenko was appointed as Board Chairman of Ukreximbank in August 2014.
Ukreximbank, the sole owner of which is the state, was created in 1992. According to the National Bank of Ukraine, as of October 1, 2019, in terms of total assets (UAH 205.439 billion), the bank was third among 76 banks operating in the country.