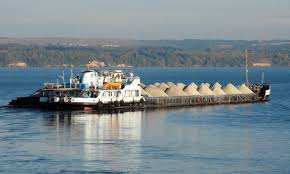 Freight transportation on the Dnipro River in January-July 2019 increased by 31.5% compared to the same period in 2018, up to 5.45 million tonnes.
As the Rivers of Ukraine Association reported on Facebook with reference to the Sea Ports Authority of Ukraine, the number of ship passages along the Dnipro totaled 5,775 voyages.
Transportation of metals in January-July increased by 33.9%, to 835,200 tonnes, grain shipments rose by 2.3 times, to 2.2 million tonnes. Those of building materials and other goods decreased by 5.7% to nearly 2.394 million tonnes. At the same time, fuel transportation decreased by 32.2%, to 21,900 tonnes.
As reported, 16.5 million tonnes of freight was transported by river in Ukraine in 2018. Freight traffic on the Dnipro last year increased by 22.4% from 2017, to about 9.9 million tonnes.
In 2016-2018, transportation of grain freight across the Dnipro grew by 180% and that of construction freight by 130%, according to the Ministry of Infrastructure of Ukraine.
The volume of traffic by inland waterways in 2016-2018 increased by 112% compared with 2013-2015, to 9.9 million tonnes in 2018.