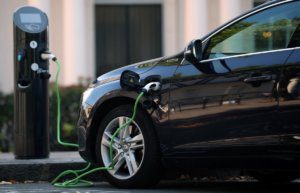 National Energy Company Ukrenergo, private joint-stock company Ukrhydroenergo, DTEK LLC, public joint-stock company Donbasenergo, public joint-stock company Centrenergo, as well as heads of the Association of Solar Power of Ukraine and the Ukrainian Wind Energy Association have urged members of the Ukrainian parliament to extend the preferential period for imports of electric cars.
"The reason for the appeal was the fact that on December 31, 2018, the temporary exemption from VAT and excise tax on imports of electric vehicles expires. At the same time, the Verkhovna Rada did not support amendments to bills Nos. 8487 and 8488 extending these benefits in 2019," Ukrenergo, which initiated a joint letter with the appeal, said in a report.
According to the document, the entire world is moving in the direction of decarbonization, energy saving and the use of renewable energy, and electric cars are an integral part of this trend. Their presence not only solves environmental problems and reduces the amount of harmful emissions, but also contributes to the emergence of fundamentally new opportunities for the development of the energy system.
In addition, a large number of electric vehicles are a "window" of opportunities for Ukrainian energy. "The Ukrainian energy community shares the opinion that temporary exemption from VAT and excise tax on the importation of electric vehicles into the country will not only stimulate the growth of sales of electric cars, but it is a signal that we are part of the civilized world and are ready for new technological, social and environmental challenges," the authors of the letter said.
According to their data, in recent years there has been a growing trend in the demand for cars with an electric engine all over the world. In Europe, there are already more than 1 million electric cars, and by the end of 2018, according to forecasts, this number will grow by another 350,000.
"Electric transport has become the object of increased attention of parliaments and governments of developed countries. European states are actively stimulating the growth of the electric vehicle segment through tax incentives to create new opportunities for the development of infrastructure of charging stations and the development of the power grid," the authors of the letter said.