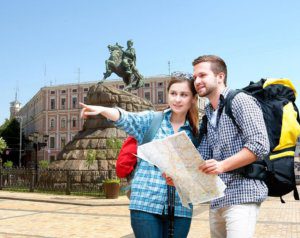 Department of Tourism and Promotions at Kyiv State City Administration plans to increase the flow of foreign tourists in the capital by 25% compared to 2017, to 2 million people, head of the department Anton Taranenko has said.
"Our plan for this year is 2 million foreign tourists, this year we almost got closer to the level of 2013. This summer has become record in the past four years. Over half a year later, in 2018, more than 850,000 foreign tourists visited Kyiv, whereas in the similar the period of 2013 there were 660,000," he said at a press briefing on Monday.
According to Taranenko, the "profile" of tourists visiting Kyiv in recent years has changed: if in 2013-2014 more than 50% of them were from Russia and post-Soviet countries, then the top five in the past year are Belarus, Israel, the United States, Germany and Turkey.
"Belarus is in the lead due to the fact that a large number of Belarusians come to Kyiv, get accommodated here for a day or two, and then go to the Black Sea coast, that is, it is short-term tourism. Israel is growing every year, and representatives of the tourist cluster of the United States and Germany are going to Kyiv due to the return of cruises to Kyiv. Turkey is always in the top five, and there is also a flow from Italy, France and the UK," he said.
According to him, the segment of foreign leisure tourists has been growing recently.
Taranenko told Interfax-Ukraine in a comment that the ratio of "conventional" tourists to those who travel to attend an event or on business trip in the first half of 2018 was 40% to 60%, while in 2017 business tourism accounted for 70% of the entire flow. According to him, this equalizes the occupancy of hotels in the leisure season (from May to October) and in the traditional business travel season (September-May).
"In general, hotels feel much better than in previous years. The average occupancy rate from May to September is 45-50%," he said.