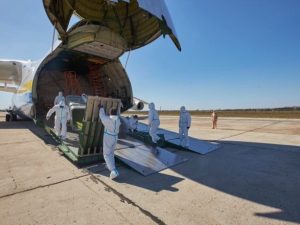 An Armed Forces of Ukraine (UAF) IL-76 MD plane has delivered humanitarian aid from the People's Republic of China to Kyiv for combating COVID-19. The shipment is the largest provided so far to Ukraine from China.
"The largest humanitarian aid ever delivered from China by the UAF plane contained more than 125 cubic meters of cargo," Deputy Foreign Minister Yevhen Enin said at a briefing at Boryspil Airport on Wednesday.
The humanitarian aid includes protective masks, suits, disinfectants, as well as 10 mechanical ventilation devices donated by the founder of the Alibaba Group, Jack Ma, to Ukrainian President Volodymyr Zelensky.
Enin said that the cargo was collected by 39 institutions: heads of provinces, enterprises and some public activists.
"The Chinese people have shown an extremely sincere gesture of solidarity with the Ukrainian people in countering the COVID-19 pandemic," he added.
Deputy Minister of Health of Ukraine Ihor Ivaschenko said that all the cargo received is humanitarian, and its recipient is state-owned enterprise Ukrvaccine and the Ministry of Health of Ukraine. The cargo will be distributed between the healthcare institutions of Ukraine, higher educational institutions, as well as regional administrations.
The list of cargo recipients also includes separate institutions that are defined as targeted delivery of goods, including the Ministry of Foreign Affairs, the Ministry of Defense of Ukraine, higher educational institutions such as Taras Shevchenko National University of Kyiv, Kyiv Polytechnic Institute, National Aviation Institute, and some regional administrations: Kharkiv, Zaporizhia, Kherson, Sumy, Poltava and some city councils. There are also goods that will be sent to the Main Military Hospital and the Oleksandrivska Hospital.
Ivaschenko also said that over the next month the goods will be distributed in accordance with applications.
At the same time, Enin added that regarding the received artificial lung ventilators, a distribution decision will be made in the near future, and they will be sent to places that need this technical support most.
AID, CHINA, HUMANITARIAN, PLANE, UAF