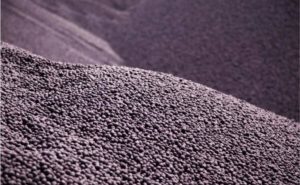 Canada's Black Iron, implementing the investment project to create a new iron ore production facility in Kryvy Rih (Dnipropetrovsk region), has said that it received expressions of interest from European banks and export credit agencies to provide $250 to $300 million of debt.
The company said in a press release that Black Iron management continue to make sound progress arranging the financing for Shymanivske project construction.
Construction of phase one to produce four million tonnes per year of 68% iron content pellet feed is estimated to cost $436 million, as further detailed in Black Iron's most recent Preliminary Economic Assessment. As is typical for financing the development of mining projects, based on discussions with potential investors and financiers, the company estimates that some $175 million (40%) will be equity and the balance around $261 million (60%) financed as debt, not including financing charges and working capital.
Black Iron CEO Matt Simpson said that strong interest from well known, highly regarded, providers of debt financing for project construction is seen.
"The indicative interest rates, grace period prior to starting repayment and loan duration in the expressions of interest received by the Company are very competitive. The recent announcement of the MOU between the Company and Ukraine's government to transfer a critical parcel of land to the Company is an important milestone that both anchor offtake and debt investors have been waiting to see. The Company is currently negotiating binding terms for the land transfer, including the compensation amount, and expect this to conclude following a binding product sale (i.e. offtake) agreement as a portion of the funds invested by the offtake company will be used to cover the land transfer costs. Now that an MOU on land transfer has been reached, we look forward to commercial negotiations for project construction financing being accelerated," he said.
Majority of the required equity for project construction is anticipated to come from offtake by a large trading company and/or steel mill that is interested to purchase Black Iron's pellet feed on a long-term contract at a slight discount to market price in exchange for making both a prepayment and acquiring ownership in the Shymanivske project. Several multi-billion companies, including Glencore, as previously announced, are currently conducting due diligence to consider such an investment.
Additionally, there are two Asia based construction companies that have conducted site visits and expressed serious interest to invest up to $50 million of equity in kind in exchange for being awarded the construction contract.
From a sequence standpoint, discussions are being held simultaneously with equity and debt investors as both are ultimately required to fund project construction. It is likely the anchor equity and offtake investor will be announced first followed by completion of an updated feasibility study and environmental impact assessment upon which the debt financing can be secured to allow for construction start around the end of next year, the company said.