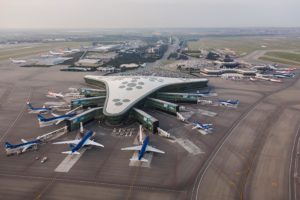 Ukraine International Airlines (UIA, Kyiv) in January and February 2019 carried over 1 million passengers, which is 9% more than a year ago.
The airline said in a press release that over the period UIA serviced 8,930 flights, which is the same as in January and February 2018.
The seat occupancy rate grew by 1 percentage points (p.p.), to 74%.
The on-time performance result for UIA in February 2019 was 85% compared with 77% in February 2018.
The airline carried 2,800 tonnes of cargo and mail, which is 2% more than a year ago.
Ukraine International Airlines was founded in 1992. It connects Ukraine with more than 80 cities and key points in Europe, Asia, America, Africa, the Middle East and the CIS countries and provides connection with the routes of partner airlines in more than 3,000 cities of the world. UIA performs more than 1,100 regular flights a week.
The fleet consists of 41 airplanes of different modifications. One of the ultimate beneficiaries of the company is businessman Ihor Kolomoisky.