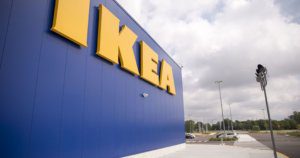 Sweden's IKEA, the largest furniture and household goods retailer in the world, plans to expand its network in Kyiv and other cities of Ukraine after testing the first store in Kyiv-based Ocean Mall, which will be opened in summer 2019. "We want to study and understand the market with the first store, and then, when we feel that we understand the market, we will open other stores in Kyiv and other cities. One year is ideal for studying to get a full cycle… Also we are working to ensure the introduction of online sales as fast as possible," IKEA Southeast Europe CEO Stefan Vanoverbeke said in an interview with Interfax-Ukraine.
According to him, the area of the first IKEA store in Kyiv will be about 6,000 square meters, the range of goods will include furniture and accessories.
"The store will be divided into locations. We call them room sets. It is a kind of room where we show solutions for home. In addition, there will be a concept for small household solutions. There will be all the components. We will collect the maximum number of products to provide the full and best experience for buyers," Vanoverbeke said.
According to him, the range of items in the Ukrainian store will include products that the company sells in other countries. The company intends to develop retail outlets that will be smaller in size than traditional ones for IKEA.
"The idea to build one big shopping center in one part of the city is no longer working. For example, residents of the left bank area of Kyiv, to get to the store on the right bank, have to spend one or two hours. It is not so convenient. First, this will be downtown, and later, perhaps, we will add a food outlet, and further, probably, we will develop the concept of smaller outlets in less accessible places in the residential areas," he said.
At the same time, Vanoverbeke said that the company does not rule out the expansion in retail space in Ukraine.
"Our colleagues have analyzed the market of large shopping centers and, indeed, in Ukraine, in comparison with the countries of Western Europe, there is an opportunity to increase the space of IKEA. Our achievements with large shopping centers are more typical for countries like China. But we are still analyzing it for Ukraine. Let's see how the market will develop," he said.