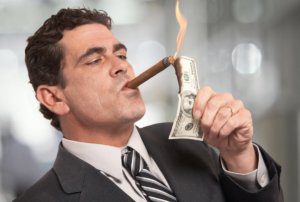 Some 4,063 taxpayers declared income in the amount of more than UAH 1 million received in 2017, the youngest millionaire living in Cherkasy is seven years old, the State Fiscal Service has said. "Compared with the corresponding period last year, the number of millionaires this year increased by 559 citizens or by 16%. One citizen declared income exceeding UAH 1 billion," the press service of the agency said, citing acting head of the service Myroslav Prodan.
The largest number of millionaires, some 2,270 taxpayers, are citizens aged 45 and older, whereas 1,605 citizens at the age of 30 to 45 years declared income exceeding UAH 1 million, and 188 citizens under 30 years. The oldest millionaire is 99 years old (Kyiv).
According to the agency, millionaires received UAH 9.8 billion income mainly at the expense of the item "other income" (additional benefit, interest accrued on deposit accounts at the bank, dividends, etc.), UAH 6.3 billion of foreign income, UAH 3.6 billion of income from operations for the sale or exchange of movable and immovable property, and UAH 2.5 billion of inheritance or received as a gift.
"Almost 44% of the total number of millionaires are registered in Kyiv (1,816 people). Among the leaders are also Kharkiv region with 299 people, Dnipropetrovsk region with 269 people, Kyiv region with 275 people, and Odesa region with 207 people," Prodan said.
At the same time, according to the agency, the average annual income of one millionaire in Ukraine is UAH 8.2 million.