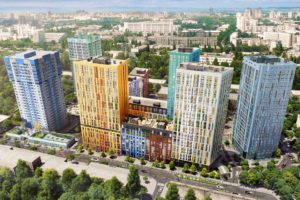 Housing commissioning in Ukraine in January-March 2019 increased 32.3% compared with the same period in 2018, to 2.453 million square meters. According to the report, 1.394 million square meters of housing were commissioned in cities in the first quarter (56.8% of the total volume), while 1.06 million square meters in rural areas. At the same time, 61.7% of the total housing was commissioned in single-family houses, 38.3% in houses with two or more apartments.
In general, during the reporting period some 26,098 apartments were commissioned, including 16,900 apartments in cities and 9,200 apartments in villages.
The average area of apartments was 94 square meters, while the average area of apartments in single-family houses was 154.1 square meters, in houses with several apartments – some 57.8 square meters.
Some 51.7% of the total volume of housing was commissioned in Kyiv city and region, as well as in Lviv, Ivano-Frankivsk and Chernivtsi regions, in particular, 174,300 square meters (7.1%) in Kyiv.