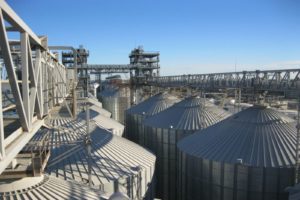 Nika-Tera sea terminal (Mykolaiv) in the 2018/2019 marketing year (MY, July-June) handled 4.7 million tonnes of grain and leguminous crops, which is 88% more compared to the previous MY.
According to a report on Nika-Tera's website, in the 2018/2019 MY the port grain transshipment items included corn (50%), wheat (34%), soybeans (8%), barley (5%), and peas (3%).
In addition, during this period, the terminal shipped 350,000 tonnes of soybeans, which is seven times more than the figure for the same period of the last marketing year.
Some 240 vessels with grain and leguminous crops were shipped for export.
During the period from July 2018 to June 2019, Nika-Tera handled 395 vessels, and the volume of transshipment amounted to 7.25 million tonnes of cargo.
As reported, in 2018 Nika-Tera seaport handled 335 vessels, transshipping 5.84 million tonnes of freight, which is 40% more than in 2017.
Nika-Tera is a modern highly mechanized marine terminal, part of Group DF's port business.
GRAIN, LEGUMINOUS CROPS, NIKA-TERA, SEA TERMINAL, TRANSSHIPMENT