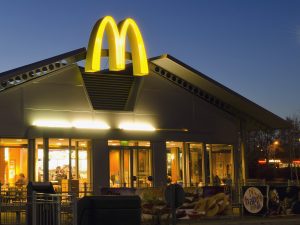 McDonald's Ukraine Ltd. (Kyiv), foreign-owned enterprise, which is developing the U.S. fast food restaurant chain McDonald's in Ukraine, has suspended the recruitment of new employees due to quarantine and aims to maintain the current team.
"The closure of restaurants affected the company's activity. Most of the business does not work, because restaurants are closed, and food can only be purchased through delivery or McDrive. Since people are the core of our business, we directed all our efforts to maintaining the team, its support and internal communication with employees who do not work forcibly," the company's press service told Interfax-Ukraine.
To date, the company's staff consists of almost 10,000 people, about 60% of them, are now idled due to the closure of restaurants under quarantine. In particular, about 55 restaurants of the U.S. chain are working with delivery partners, or through McDrive. No more than 40% of the company's staff supports the operation of these restaurants.
"All employees of closed restaurants and those employees, who are over 55 years old, received payments for idle period or got paid leaves. In general, this is almost 60% of the McDonald's team in Ukraine. Some employees chose unpaid leave to use later annual paid leave for the vacation. In addition, we have suspended recruitment and plan to save the jobs of our employees."
The McDonald's restaurant chain has 92 restaurants in 19 cities throughout Ukraine.