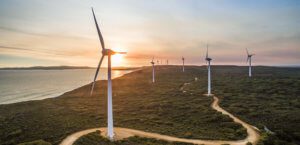 The Black Sea Trade and Development Bank (BSTDB) is considering a possibility of participation in financing of construction of a wind farm in Kherson region with an installed capacity of 250 MW by SyvashEnergoProm LLC, a subsidiary of Norway's NBT, the bank has reported on its website.
The sum of financing is not specified.
As reported, early September 2018, an agreement on the implementation of an international investment project to build a complex of wind farms in Kherson region with NBT to play the leading role in the project was signed. The wind farm would allow satisfying almost the half of the needs in electricity in Kherson region. According to the project, by the end of next year 67 wind turbines will be installed along the coast of the Syvash Lake. Total investment under the agreement is almost $450 million.
The European Bank for Reconstruction and Development (EBRD) will consider a loan worth up to EUR 150 million for SyvashEnergoProm LLC for the construction of the wind farm, of which up to EUR 75 million would be funded from the EBRD resources and the remainder would be syndicated in a B-loan structure to eligible institutions.
NBT acquired SyvashEnergoProm in Kherson, Ukraine in April 2018. The plan is to construct a wind farm with installed capacity in the range of 250–330 MW, the company said.
In 2006, Kherson Regional State Administration transferred the unfinished Syvash wind power plant to concession to SyvashEnergoProm until 2055.
BLACK SEA TRADE, CONSTRUCTION, DEVELOPMENT BANK, MULLING FINANCING, WIND FARM