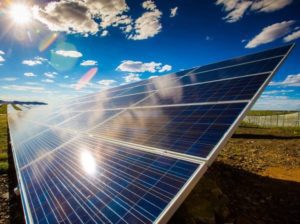 Norway's Norsk Solar has signed an agreement with the Voltage Group Ukrainian Company for designing and building of a 9 MW solar power plant near the town of Brovary in Kyiv region, the Nordic Environment Finance Corporation (NEFCO) reported on its website. According to the NEFCO, Voltage Group developed design documentation for construction of the solar plant on a total land area of 12.6 hectares.
The plant, which is located in the village of Semypolky, is to be commissioned at the end of 2019.
As reported, the NEFCO will lend EUR 4.35 million to Norway's Norsk Solar for the construction of the plant, while Norsk Solar will issue another EUR 4.35 million.
The project owner and majority equity contributor, Norsk Solar AS, is part of the Norsk Vind group.
Norsk Solar is owned by Norwegian Lars Helge Helvig.
Ukrainian SPP will be the second such kind of a project for the company.
BUILDING, CONTRACT, KYIV, NORSK SOLAR, SOLAR POWER PLANT, UKRAINIAN CONTRACTOR