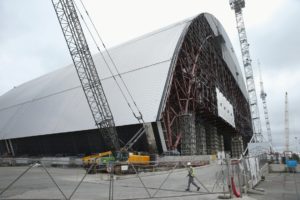 Chornobyl nuclear power plant has officially received a new safe confinement (NSC) for subsequent commissioning from Novarka.
According to an Interfax-Ukraine correspondent, the handover ceremony took place at Chornobyl nuclear power plant with the participation of Ukrainian President Volodymyr Zelensky on July 10.
Upon completion of the transfer process, the plant will receive a license and proceed to operating the confinement complex and dismantling unstable structures of the Shelter facility.
"To implement this stage, additional financial resources are needed, first of all, from Ukraine," the State Agency of Ukraine on Exclusion Zone Management said.
Earlier on July 10 Senior External Affairs Advisor at the European Bank for Reconstruction and Development (EBRD) Anton Usov wrote on Facebook that "22 years after the Chornobyl Shelter Fund was set up, the new safe confinement has now been launched and handed over to Ukraine."
The international community raised EUR1.5 billion for the project, Usov said. The EBRD invested over EUR700 million. The confinement will serve at least 100 years and help solve the problem of removing the 'sarcophagus' over reactor No. 4, he said.
The construction of the NSC over the old Shelter began in 2012 following massive preparations on the site. The project was carried out by Novarka Consortium.
Due to the massive size of the NSC it had to be built in two parts, which were erected and successfully joined in 2015. Inside the NSC arc is a crane for removing the existing old Shelter Structure, or 'sarcophagus,' and the remainder of reactor No. 4.
The NSC has a service life of 100 years and cost EUR1.5 billion to build.
Pre-installation work and individual and comprehensive tests on its equipment and technological systems were carried out at the plant's industrial site in March. In late April, the NSC was put into trial operation. It will run experimentally for no more than a year, after which, depending on its performance, it will receive the relevant license and proceed to full operation and the removal of the old Shelter.