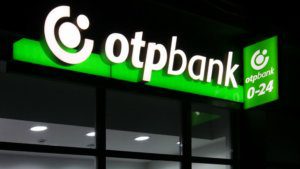 OTP Bank (Kyiv) in January-March 2018 saw UAH 670.493 million of net profit, which is a 2.3-fold rise year-over-year.
According to a financial report posted on the bank's website, its net interest income grew by 21%, to UAH 584.507 million, and non-interest income increased 3.24-fold, to UAH 395.402 million, including a rise of 26.8% in net commission income, to UAH 255.924 million.
Operating expenses grew by 8%, to UAH 351.757 million.
The bank's assets rose by 5.1%, to UAH 30.9 million, including a 6.1% rise in loans issued to clients, to UAH 18.08 billion.
Funds of clients grew by 2.9%, to UAH 26.4 million.
OTP Bank was founded in 1998. Its sole shareholder is Hungary's OTP Bank Plc. OTP Bank is part of OPT banking group, which also includes OTP Factoring Ukraine LLC, AMC OTP Capital, OTP Leasing LLC, and OTP Credit LLC.
OTP Bank ranked 12th among 84 banks operating in the country on January 1, 2018 by total assets (UAH 29.822 billion), according to the National Bank of Ukraine.