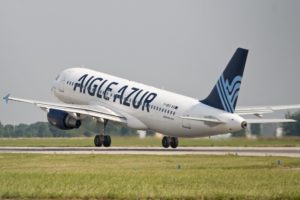 France's Aigle Azur airline in 2019 plans to service 9-10% of passenger flow between Kyiv and Paris, which is around 16,000 passengers, Aigle Azur President and Chief Executive Officer (CEO) Frantz Yvelin has said at a press conference in Kyiv.
"I believe in the Ukrainian market and we have long term plans. In the future, we hope for more flights than three per week," he said.
According to him, the airline counts on passenger traffic in the amount of about 16,000 passengers in 2019.
"About 160,000 passengers travel between Kyiv and Paris, and we expect to receive about 9-10% of this passenger traffic," Yvelin said.
According to him, there is practically no competition among air carriers on the Kyiv-Paris route, which makes these destinations attractive for Aigle Azur.
The airline will operate flights between Paris-Orly and Kyiv-Boryspil airports three times a week: from Paris on Tuesdays, Thursdays and Saturdays, and from Kyiv on Wednesdays, Fridays and Sundays. A one way trip will cost around EUR 74.
As reported, Aigle Azur airline will launch a direct flight between the airports of Paris-Orly and Kyiv-Boryspil from April 18, 2019.
At the moment, UIA and Air France operate direct flights to Paris from Kyiv.