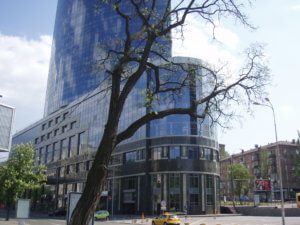 Businessman Vagif Aliyev, the investor and owner of the Lavina, Blokbuster and Ocean Mall shopping and entertainment centers in Kyiv, plans to finish the sale of a part of the Parus class A business center in Kyiv by late 2018 to finance construction of the mega mall network. "Yes, we will gradually sell Parus," Aliyev said in a blitz-interview with Interfax-Ukraine. According to him, negotiations on the deal are currently ongoing, but the buyer's name has not been announced.
"We are in the process of negotiations… [The transaction] is not yet completed, we are in the process of discussing the financial interest..," the developer said, adding that the completion of the transaction is expected by the end of 2018.
As reported, at the end of 2016, Aliyev said that he was ready to sell the Parus business center if he could not attract loan funds to complete the construction of the Blokbuster Mall shopping center. Aliyev announced the completion of the transaction on the sale of the Senator business center located at 2, Riznytska Street, in the Pechersky district of Kyiv. The Parus business center with 33 floors located at 2, Mechnikova Street in the Pechersky district of Kyiv was commissioned in 2007. The building has an underground four-level parking for 300 cars.