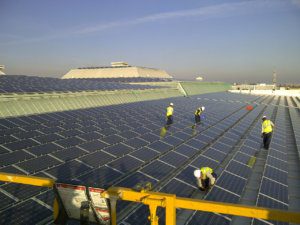 UDP (Kyiv) has arranged a joint project to expand Dymerka solar power plant (Kyiv region) from 6 MW to 57.6 MW with Spain's Acciona Energia Global, the press service of UDP has reported. "The first project of the Spanish energy giant on the Ukrainian market will be the development of the second, third and fourth stages of the Dymerka solar power plant in Kyiv region with a total peak capacity of 57.6 MW. The first phase of this plant was commissioned by UDP Renewables in the summer of 2017. The total volume of foreign direct investment only in this project is EUR 54.7 million," UDP said.
The launch of the Dymerka solar power plant at a full capacity is scheduled for the first quarter of 2019.
The UDP said that they arranged with Acciona Energia Global to work together on a broad portfolio of investment projects in both solar and wind energy in the Ukrainian market.
As reported, the first stage of the solar power plant in the village of Velyka Dymerka (Kyiv region) with a capacity of 6 MW was registered for Dymerka solar power plant-1 LLC. The company belongs to the majority shareholder of the UDP development company Vasyl Khmelnytsky.
ACCIONA ENERGIA GLOBAL, BUILD, INVEST, JOINT PROJECT, KYIV REGION, POWER PLANT, UDP