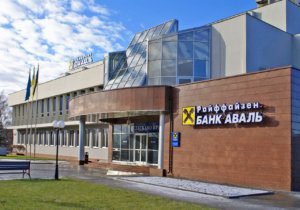 Public joint-stock company Raiffeisen Bank Aval (Kyiv) saw a 17% rise in net profit in 2017, reaching UAH 4.469 million.
According to an announcement on holding a general meeting of shareholders on April 27, 2018, a copy of which has been forwarded to Interfax-Ukraine, the bank's assets last year grew by 18.4%, to UAH 66.297 billion, including UAH 36.845 million of loans issued to clients, taking into account reserves (31.6% up year-over-year), UAH 5.727 billion in investment securities (2.7% up), UAH 10.297 billion of cash and its equivalents (0.04% up) and UAH 13.428 billion of other assets (14% down).
The draft decision of the meeting envisages sending UAH 4.244 billion of net profit for 2017 to pay dividends to holders of ordinary shares.
The shareholders also plan to change the type of the company from public one to private JSC, approve the supervisory board with the following members: Martin Gruell (head of the supervisory board), Andriy Stepanenko (deputy head), Joseph Eberle, Harald Kröger, Robert Fritz, Andreea Moraru, Anna Derevyanko, Pavlo Sheremeta and Daniel Bilak (the three last one are independent members).
Raiffeisen Bank Aval was founded in 1992. As of June 30, 2017, Raiffeisen Bank International (RBI, Austria) owned 68.28% of the Ukrainian bank's charter capital, while the European Bank for Reconstruction and Development (EBRD) held 30%.
Raiffeisen Bank Aval ranked fifth in terms of assets worth UAH 72.108 billion among 84 operating banks as of January 1, 2018, according to the National Bank of Ukraine.