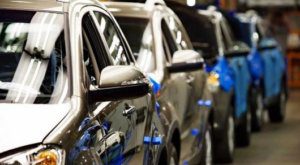 Primary registrations of new passenger cars in August 2018 grew by 11% year-over-year and by 10% on July 2018, to 7,300 units, the Ukrautoprom association has reported. The leader of the market in August was France's with a rise of 39% in sales year-over-year, to 986 cars. Toyota was second again with 983 cars (13% up).
Nissan climbed from fourth to third position in Aug (Skoda was third in July) with 498 cars (32% up).
KIA cars sales grew by 10%, to 477 cars. Hyundai, as in July, was fifth with 452 cars registered (45% more).
The top ten in August also included Skoda with 404 cars (1% up), Mazda with 315 cars (30% more), Volkswagen with 313 cars (40% down), Ford with 294 cars (20% up) and Suzuki with 277 cars (54% up).