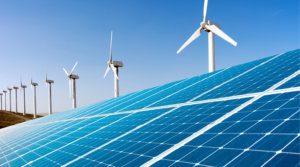 New generating facilities on renewable energy sources with a total installed capacity of 109.6 MW were put into operation in Ukraine in April-June 2018, which is 1.7 times more than in the same period in 2017, the press service of the National Commission on Energy, Housing and Utilities Services Regulation has stated. "The objects of wind power plants and solar power plants account for 99% of the commissioned facilities," the report said.
According to the commission, in the second quarter a wind power plant with a capacity of 3.2 MW, a solar plant with a total capacity of 106.1 MW, and a biogas plant with a capacity of 0.3 MW were commissioned.
Thus, as of June 27 Ukraine had wind power plants with a total installed capacity of 515.4 MW, solar plants of 947.5 MW, biomass stations of 43.8 MW, biogas plants of 41 MW, and hydro power plants of 95.6 MW.
The total installed capacity of renewable energy facilities is 1.643 GW (excluding the annexed Crimea, where previously renewable energy facilities with a total capacity of 494.9 MW were launched).
At present the share of renewable energy in electricity production in Ukraine is 1.9%, the share in the total cost of electricity is 8.5%.