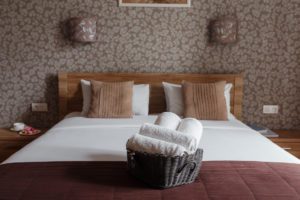 Ribas Hotels Group LLC (Odesa), the managing company of the national chain of midscale and upscale tourist hotel and restaurant complexes, plans to open a hotel in Karolino-Buhaz (Odesa region) in 2020. "In the resort village of Karolino-Buhaz, in May 2020 we will launch the Montana Beach hotel with 69 rooms: standard, junior suite, and suite. For guests with disabilities, we also open superior rooms. The interior and exterior of the facility are styled of America in 1950s of. The planned amount of investment is $2.7 million," Director General of Ribas Hotels Group Artur Lupashko said in an interview with Interfax-Ukraine.
According to him, the company is positioning the facility as a family hotel. Thus, the project includes a medical center and a nursing room; on each floor there are special alcoves for storing baby strollers.
In addition, the infrastructure of the facility includes two restaurants, one of which is designed on the roof, next to the lounge area and the playground.
"We are also currently finishing work on the environment-friendly facility project for introverts on the Kinburn Spit with about 30 rooms with a small oriental restaurant. It will be small cozy campgrounds. The planned investment amount is $1 million," Lupashko said.
He said that according to the project, the complex includes a swimming pool, a barbecue area, an open cinema hall, and an entertainment zone with trampolines. The project plan also includes a building for staff accommodation.
Ribas Hotels Group LLC (Odesa) was established in 2017.