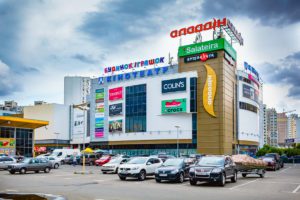 Meyer Bergman international investment fund (London) has finalized a deal to sell the Aladdin shopping and entertainment center with gross building area (GBA) of 16,500 square meters located at 3A, Hryshka Street in Kyiv to UCPIH Ltd, a member of the Dragon Capital group of companies.
"We are very pleased to have completed this acquisition and add Aladdin to our portfolio of shopping centers, which now will consist of Piramida and Aladdin (Kyiv), Sky Park (Vinnytsia) and Victoria Gardens (Lviv) occupying in total over 160,000 square meters," Managing Director of Private Equity at Dragon Capital Volodymyr Tymochko said.
He said that Dragon Capital is determined to capitalize on it by optimizing the center's concept and tenant mix. The deal value is not disclosed.
Aladdin Shopping Mall, with a gross leasable area (GLA) of 10,571 square meters, is located in a densely populated residential district right next to Pozniaky metro station and close to Piramida, a shopping center the company acquired in 2016.
As reported, Meyer Bergman acquired Aladdin center in 2008 for $60 million.