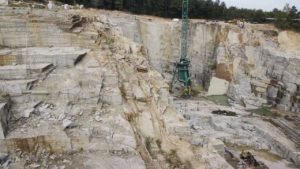 The TAS Group continues investing in industry, in particular, the group acquired a block stone quarry in Zhytomyr region, the press service of the group reported last week.
"Taking into account the active development of infrastructure projects in Ukraine, increase in the volume of road and housing construction, as well as other types of economic activity where natural stone is actively used, the TAS Group considers the extraction of nonmetallic materials to be quite a promising business and intends to continue to acquire new assets in this area," TAS group Board Chairman Serhiy Popenko said.
According to the report, the entry of a natural stone mining company into the TAS Group complies with the group's long-term development strategy and will contribute to strengthening its market position.
At the same time, the group did not specify the name of the acquired company and the location of the quarry.
The TAS Group was founded in 1998. It has assets in the financial and industrial sectors, agriculture, real estate, pharmaceuticals and venture projects. The financial sector of the group includes TAScombank, Universal Bank, VS Bank, two insurance companies and a number of other organizations. The founder and main shareholder of the group is Sergiy Tigipko.