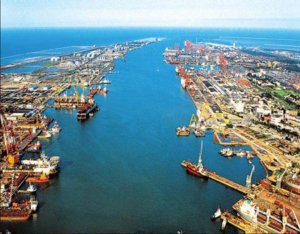 Techagro LLC plant to build three terminals – grain, container ones and a terminal for bulk and break-bulk cargos – totally worth $198 million at the Yuzhny maritime merchandise port (Odesa region), the Center for Transport Strategies has reported, referring to Director of Techagro Viacheslav Boyalsky. According to him, the company owns an 82-hectare land parcel at the entrance to the Yuzhny port water area with a berthing front of 280 running meters and a depth of about 17 meters, which will make it possible to service ships with a carrying capacity of 150,000-170,000 tonnes. "According to the estimate and financial preliminary calculation it requires $198 million of investment. The first thing that we will build is railroad, power lines and water pipelines, which will cost us $6.2 million. We plan to complete the works in 2019 to provide the site with utilities networks," Boyalsky said.
The construction of the grain terminal is scheduled to begin in 2020, its launching in 2021. According to preliminary data, at the initial stage the grain terminal will handle 4.5 million tonnes per year, including 400,000 tonnes of flour and 200,000 tonnes of vegetable oil.
The container terminal, which Techagro plans to build, will have a capacity of 2 million tonnes and will cover an area of 22 hectares. The terminal for bulk and break-bulk cargo is planned to handle 2-2.5 million tonnes per year. To avoid dust, it will be equipped with two covered tunnels.