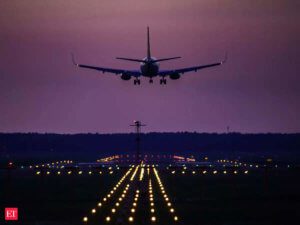 Ukrainian airlines in November 2018 serviced 79.4% of flights of the total number of flights serviced at Ukrainian airports within the 15 minute deviation from the timetable, while in October the figure was 85.2%, Ukraine's Infrastructure Ministry has reported.
According to the ministry, this happened despite the reduction in the number of flights from 4,540 to 3,790.
The Infrastructure Ministry said that the punctuality of foreign airlines in November compared with October decreased slightly from 84.9% to 83.7%, while the number of flights decreased from 2,720 to 2,510
Of the Ukrainian airlines that made more than 50 flights a month in October-November, Motor Sich remains the most punctual, although last month its figure dropped to 86.2% from 95.6% a month earlier, with the number of flights dropping to 239 from 250.
Windrose is second with a decline from 93.4% to 83.4% and with the number of flights falling from 482 to 356.
Punctuality of Ukraine's largest airline in the market – Ukraine International Airlines – deteriorated from 86.6% to 80.9%, while the number of flights decreased from 3,161 to 2,681.
The indicators in November for SkyUp, Bravo, Yanair and Azur Air Ukraine were from 70% to 60% (in order of deterioration).
Czech Airlines, Swiss International Airlines and Air Arabia were ranked the top of the November punctuality rating among foreign airlines with the 100% punctuality, although the number of their flights is small – from 15 to 21 per month.
Pegasus Airlines had the best performance among low cost airlines – 96.2% with 105 flights, while Hungarian Wizzair and Irish Ryanair with significant lags turned out to be next in the rating – 81.5% with 406 flights and 79.7% with 222 flights respectively. The figure of the Italian airline Ernest was 76% with 96 flights.
Among other foreign airlines that serviced more than 100 flights from Ukraine in November, Belavia had the best result – 90% with 230 flights. Polish LOT had 86.3% with 314 flights, Turkish Airlines – 79.5% with 263 flights, Lufthansa – 77.6% with 170 flights and Austrian Airlines – 76.4% with 110 flights.