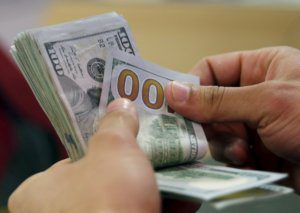 The surplus of Ukraine's balance of payment in February 2018 reached $252 million, while a deficit of $449 million was seen a month ago, according to preliminary data published on the official website of the National Bank of Ukraine (NBU).
In January-February 2018, the deficit of the balance of payment totaled $197 million, which is 13.97% less than a year ago.
The central bank said that the surplus of the current account in February fell by 92.4% compared with January, to $9 million. In January-February 2018, the surplus of the current account was $128 million, which is 15.79% less than a year ago.
The NBU pointed out deterioration in the export performance of a number of commodity groups, despite the maintenance of a favorable price environment for ferrous metals, ores and grains.
According to the central bank, the corresponding pace was due to a slowdown in the growth of production volumes in certain industries and the complication of transportation due to unfavorable weather conditions.
In turn, imports continued to grow, mainly thanks to energy and chemical products.
Revenue sent to the financial account in February amounted to $243 million compared with $568 million outflow a month earlier. According to the NBU, the inflow of funds is linked to the stepping up of purchase of hryvnia-pegged government domestic loan securities by nonresidents.
Foreign direct investment (FDI) in February totaled $111 million fully sent to the real economic sector to increase share capital.
Outflow on the financial account in January-February 2018 was $325 million, which is 15.8% less than a year ago, and net FDI inflow was $191 million (32.5% down year-over-year).