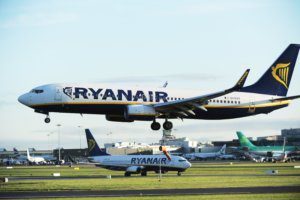 State-owned enterprise Boryspil International Airport (Kyiv) is ready to allow Ireland's low cost airline Ryanair to use currently mothballed Terminal F as soon as the airline starts servicing 15 flights a day from the airport. An Interfax-Ukraine correspondent has reported that Boryspil airport Pavlo Riabikin gave this information at a press conference in the airport last week devoted to the arrival of Ryanair to Ukraine.
"As soon as the frequency of their flights reaches 15 a day, we will open this terminal," he said. He said that now it is planned to service Ryanair's flights in Terminal D. A year ago Riabikin said that the Boryspil airport could de-mothball of Terminal F if there were enough flights of low cost airlines in the country.
"One of the KPI [key performance indicators] in my contract is the resumption of activities of Terminals F and B. We have already prepared a plan for the resumption of activities of Terminal F for servicing low-cost carriers. As soon as we understand there are 15 low-cost carriers, we will open Terminal F for them, otherwise it will be a loss-making terminal. The terminal is likely to open for the summer navigation of 2018, but flights must be provided for this," he then said.
Earlier, former head of the airport Yevhen Dykhne noted Terminal F is the demonstration of state mismanagement: when it was being built, it did not fit into the airport development strategy at that time. According to the Ministry of Infrastructure, $40 million was invested in Terminal F in 2009-2014. It had been the base for Ukraine International Airlines since 2010 to 2013. The airport mothballed Terminal F in 2013.