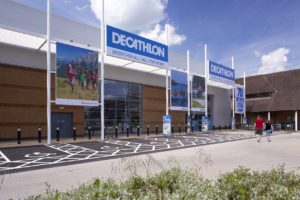 The Frenchsportswear brand Decathlon, part of the Auchan Group, on March 23, 2019 opened its first store in Kyiv and plans to focus on expansion in this city in the coming two years.
"We have a plan, but it is still variable. This year we may open another store in Kyiv. Next year, new stores will also be in Kyiv. In 2021, the Decathlon brand will go beyond the city to Odesa, Lviv and possibly other major cities," CEO at Decathlon Ukraine Florent Guieu told Interfax-Ukraine during the opening of the first store on Saturday (March 23).
The first outlet of the sports brand is located in the first line of Retail Park Petrivka. Its area is 2,500 square meters. The construction of the store lasted four months, the volume of investments amounted to EUR 1 million.
In addition, on the eve of the opening of the bricks-and-mortar store, Decathlon launched an online store. Delivery is available in all regions of Ukraine.
"Our main goal today is to open the first Decathlon store in Kyiv. First, we will learn more about the preferences of Ukrainians. Based on this knowledge, we will be able to think about opening a store in another city. Our dream is to have at least one store in each region," the company said in a press release, citing Guieu.
According to him, the format of Decathlon stores will be 2,000-3,000 square meters, but the company may be testing the shops of a smaller format.
"It is hard to say how many we can open stores in Ukraine in general. For example, in Romania it took 10 years to open 25 stores, and now they are the leader in the local market. In Poland, in 15 years, 60 stores have opened and there Decathlon also occupies the leading position. It is not yet known how much and how quickly we will open stores in Ukraine, as this will directly depend on demand," Guieu said.
The first Decathlon store was opened in 1976 in France. Currently, the brand has more than 1,500 stores in 56 countries. 99% of products in chain stores are goods of their own brands.