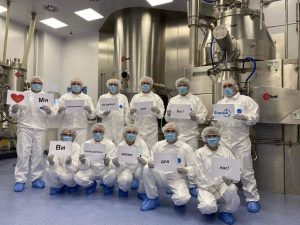 Private joint-stock company Farmak (Kyiv), the pharmaceutical company, did not halt production and will gradually exit lockdown, the press service of the company has told Interfax-Ukraine.
"Farmak continues production as usual. All lines are working as planned. However, after lockdown was announced all over the country on March 12 and the Health Ministry recommended that enterprises transfer employees to remote work, if possible, Farmak transferred some employees to remote work," the company said.
According to the company, in particular, within the framework of lockdown restrictions introduced in the country, the sanitary regime was tightened to provide additional protection for workers, members of their families and to prevent the spread of coronavirus disease COVID-10, and a reserve of disinfection and personal protective equipment was created.
The company also developed an algorithm of actions and escort routes for people with signs of ARVI, limited mass meetings, replacing them with remote meetings, suspended business trips of employees abroad, and limited business trips within Ukraine.
Workers who returned from abroad starting March 16, switched to telework for 14 days," the company said.
During lockdown, to ensure uninterrupted operation, Farmak developed routes and a schedule for centralized transportation of employees from their places of residence at 5.45 a.m., and a carsharing group was created to deliver employees to the office.
The press service of Farmak noted an increased demand for medicines manufactured by the company.
"Production is responding to increased demand. Our mission is to make affordable and effective medicines available for treatment, so we quickly adapt to changing market needs. For example, Farmak produces medicines (Amizon, Nazoferon, Gropivirin, Pelorsin) that can be used to treat and prevent influenza and ARVI," the company said.